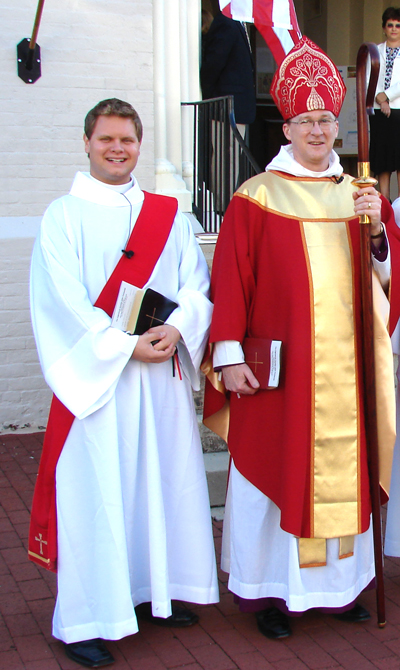 Fletcher M. Wells graduated from Virginia Theological Seminary in 2007 and began at St. George's in July,2007. He came to St. George's as the youngest assistant at age 27 and would be a deacon until his ordination into the priesthood in December, 2007. He had more specific responsibilities as Director of Outreach and Youth.
Fletcher enjoyed a varied career prior to coming to St. George's, first majoring in Chemistry at James Madison, graduating in 2003. He was part of the Young Priest Initiative in the Diocese of Virginia. He had been a chaplain and conference leader for summer camps at Shrine Mont, coached high school sports, and worked with youth and young adults at St. Paul's Church in Alexandria and The Church of St. Stephen's and the Incarnation in Washington, DC. He spent a year between college and seminary with the Micah Project, an outreach ministry in Boston sponsored by the Episcopal Diocese of Massachusetts.
Fletcher and his work agreement lists the following as part of his ministry:
1. The former Christian Education and Youth Commission has transitioned into three commissions for adults, youth and children. The Adult Christian Education (ACE) Commission, was under the leadership the Rev. Gay Rahn. Fletcher worked all aspects of youth ministry. He worked with youth formation commission, clergy and vestry in to plan other youth program and youth involvement in parish programs and Outreach.
Part of the youth program was the Journey to Adult Program (J2A).The newsletter over 2007 described J2A – "The ideas of the curriculum are largely based on what they call the "four S's." ((Spirituality, Society, Sexuality, and Society). The first 'S' is Self. Part of any journey to adulthood is discovering and becoming comfortable with oneself. Adolescence is a time filled with peer pressure, a personal desire to fit in, and outside influence towards conformity, and so the Journey to Adulthood model tries to give youth a free and safe space, where they are accepted and encouraged to discover themselves and grow into the people that God created them to be.
"The curriculum attempts to have all of this self-discovery happen within a strong framework of Christian communal identity and with a firm grounding in Biblical truth. It teaches them that they have inherent self-worth because they are made in the image of a holy God, that He knew them before they were made and they are exactly who and how He wanted them to be, and that they are free to discover and grow because He is ultimately in control and will never lose them or forsake them.
"Ultimately we simply hope to give each youth the courage and resources to become the adult that God desires them to be. We pray that this focus on "self" will help them not to be selfish, but rather to be able to act in their own self interest. And finally we hope that as they discover their skills, dreams, and strengths, they will become powerful members of and participants in the church and generous and productive members of humanity.
He wrote about J2A early on. J2A "is split into three different categories. Rite 13 is made up of the Sixth and Seven grade classes. This group will begin to explore what it means to have a voice in the church through preparation of liturgy and exploration of their faith and how it is applied in the world. Journey to Adulthood consists of the Eighth and Ninth graders. Our J2Aers will begin to take charge of their faith by leading some of their own exercises. At this time, they will prepare for confirmation and will make a pilgrimage at the end of the two-year program. Finally, we have the Young Adults in Community. The YACs take on a role of leadership in their learning, designing and implementing the curriculum. Of course, we cannot forget our Twelfth graders, they will be in their own class this year learning about world cults and other, we'll call it…expressions of faith."
He described in the newsletter the important day – "the Celebration of Womanhood and Manhood, and Litany of Dedication" with this program.
"On Saturday November 17th, a group of over eighty St. Georgians came to dinner in Faulkner hall. This group of over twenty families arrived in the evening to a dinner prepared by our Rite 13 families (families with children in sixth and seventh grades). The dinner consisted of lasagna, salad, and desserts. At dinner, families mixed and mingled and got to know each other and each other's children. This vital piece of the J2A program happens every two years at the beginning of a new two-year-cycle. After dinner, there was much to be done! After a brief reflection by The Reverend Jim Dannals, our Journey to adulthood parents (the eighth and ninth grades) stepped forward to name and to affirm their children as they start on a journey toward maturity in the church. As the parents passed the light of Christ to their children, their children departed to take part in a Eucharist with The Rev. Gay Rahn and our Young Adults in the Church group (tenth and eleventh grades). The parents of the Journey to Adulthood group then took place in a special program of their own with The Rev. Fletcher Wells and even got to play with fire. Our Rite 13 families then set to the task of clean up. A select few within the group who had recently turned or were recently turning thirteen went with their teachers to go over the service for the celebration of manhood and womanhood. Their parents were led in a reflection with the rector. After all of this took place, our families were ready for what would take place on Sunday. Sunday, November 18th those youth taking part in the ceremony were honored through a rite of blessing. At the end of the service, each of the children was presented with a framed version of Psalm 139, which is a pivotal part of the Rite 13 process"
Youth group had room for "fun" activities. Fletcher wrote about their dual purpose ."We are gathering momentum as a group through fun activities such as bowling and ice-skating. These activities while they are fun also have some built in theological reflection. Every youth group meeting begins with a centering piece to get them thinking. Sometimes they receive a piece of scripture and other times they receive thinking questions to allow them to think about how to place their fun events in the context of the church. These fun events are designed for us to begin building a strong relationally based program that will be relevant to all of our youth. "
He found the challenges of working with a large age span and had to split the senior high from the junior high group because of behavior issues.
2. Formed a feeding philanthropy for the city of Fredericksburg that still exists today.
He worked with the city health department to guarantee that our facilities were satisfactory for a large scale community dinner that served the community.
The community dinner was partially the result of a shift in Micah Ecumenical ministries. The Community Dinner goal was to have a community dinner scheduled at one of the Fredericksburg churches daily.
Micah moved to its new facilities at 1013 Princess Anne Street in August, 2008. Micah's location was not only changing but also its direction. Micah was moving in the fourth quarter of 2008 from one time donations toward creating a mentoring process through volunteers to help their clients develop a more sustainable life. Relationship building was essential in this process. It included hands-on-projects , evident in the fourth quarter, 2008. It also fit the Outreach's commission emphasis on "Lead by Doing". The first community dinner occurred in September 2009 after he left St. George's
3. Renewed and gave structure around roles and term limits for the Outreach Commission.
The Outreach full time position was a key goal for Rev. Jim Dannals. The Vestry had established a "50/50" outreach goal, spending as much on others as we spend on ourselves. Another goal was to have every member of St. George's involved in one of the Outreach ministries. Fletcher was the first Clergy to have this mandate as part of his responsibilities. He also empowered the youth for outreach ministries – making goodies for the soup kitchen, decorating a Christmas tree for the Hope House and participating in the Crop Walk.
Fletcher wrote about his earliest experiences here -"When I was interviewing with St. George's some four months ago I was told that Outreach is in the church's DNA. That quote from Laura DeSimone caused me to stop and pray about a decision to come to St. George's. I realized there was a great deal of outreach in my own DNA. At the monthly Outreach Commission meeting, I had the opportunity to witness first hand how outreach helps to shape ministry at St. George's. On my first day here, I observed over twenty people being commissioned for FredCamp; I met others who had returned from Mississippi and Camp Coast Care. In my first weeks in the office, I have helped prepare meals for FREDCampers and the underprivileged. Through all of these experiences, I am learning about how the parishioners share their hearts. This made me wonder where our outreach money went and how we help the programs we support. We support seventeen different causes in the Fredericksburg and the surrounding areas and that doesn't even include those ministries in our H.O.M.E. Team program."
"I mentioned that our H.O.M.E. Team raises money to help send our parishioners on Outreach-Mission trips to Mississippi, South Dakota, Honduras, and helps care for people in our community through FredCamp. We assist several other area churches with School Dressing Days, an ecumenical program held at Fredericksburg Baptist Church. Finally, our parishioners are not bound to volunteering with just the organizations that we support. Hundreds of hours each month are spent in relationship with those in and out of our community. In short, St. Georgians find ways to express their love for Christ in the world, using words when necessary. St. George's lives into our baptismal promise of striving "for justice and peace among all people, and respecting the dignity of every human being."
"In my limited interaction, I have learned that the community views St. George's as a church that is deeply committed to addressing the needs of the world, the nation and the community. As I think about metaphors for St. George's, I understand us as a circle of people, joined hands, and facing outward. Some of the advantages of a circle facing outward would be that we could truly address the needs that we see. We are not an insular institution and so we are constantly addressing the needs of the nation and the world. The only drawback of our outward facing circle is that we sometimes miss the needs of those here in our community. We are known as a generous congregation when it comes to supporting the community. We define who we are in the community and we ask who we are in the community through our action."
Outreach formed action teams for Micah to help with the cold night shelter, hospitality, newcomers and transportation. These actions teams were designed to help the Church respond quickly to the needs of people in our community. Fletcher helped get parishioner involved in working there. In particular Charlotte Moore worked with the night program and Marcia Kole the day. David and Emily Croner helped with the mentoring process. This fit into a new program consideration for Outreach – "lead by example." Outreach was working to advertise and publicize volunteer efforts locally to spur similar activities by others. This involved restructuring the commission by using subcommittees to handle different events in the year or different tasks so that the entire commission would not have to do all the work.
He also worked on a self-assessment of Outreach reviewing the organizations that the church was supporting. He wrote in the newsletter for 2008. "This year we are excited to welcome New Vision, a ministry to women who are recently released from prison, and Hope for Humanity, a non-profit that builds secondary schools for men and women in the Sudan. A school opened there in 2008 and was looking for the basic necessities. An African meal was held in April, 2008 with 60 people in attendance. Hope for Humanity became a regular recipient of quarterly donations from the Outreach Commission. He wrote " As we welcome these new ministries to St. George's, it is our hope that all parishioners will begin to ask the Outreach Commission who it is we support and why. "
Outreach was moving to a concept of "Lead by Doing" in 2008. The commission would like to have parishioners involved personally in outreach. Outreach was asking members to give 12 hours a year. Outreach would then document the efforts and possibly produce an annual report and show what St. George's is doing in the community. To extend this concept to the congregation, they conceived of a "plug into your passion" program in 2009 which involved a business spiritual inventory of 130 questions. It was intended to reveal a person's spiritual gifts that could be used by the various commissions. At the end of the process the participant would know which commissions could use his/her gifts and contact information would be provided both to the participant and the particular commissions. This program, however, never got off the ground. There was a complaint that few of the commission provided questions to them.
Mission organization was also part of the Vestry's agenda in 2008, particularly the reorganization of "The Home Team" concept and how mission trips were financed. "The Home Team" as formed in 2004 to coordinate fund raising since there were too many separate efforts and that publicity for these efforts could be shared. He believes the concept worked well for the first 12 -18 months but that the group had lost their focus recently since they had not met. In November, 2008 the Vestry tasked Fletcher and Senior Warden Bryan Howell to look at the Home Team in terms of its purpose, where it was heading and to propose changes. A meeting was called involving each of the four missions and other interested people who supported the missions but may not participate. Fletcher researched how other churches and other entities had organized mission groups and found there was no definitive model. In essence, we should do what is best for us. From a virtual meeting, the decision had been made to establish a new commission. FredCamp would be separated and continue under Outreach since it was a local mission. The Home Team is currently only a fundraising group for all the groups. Now, each separate mission would have a budget item, and they would have control over their own funds.
4. Fletcher encouraged and created a new web presence for the church through the use of social media, websites, podcasts, blogs, and video blogs. Fletcher created his own blog for his ministries, an Outreach website accessible from St. George's main site as well as podcasts.The new page contained links to those organizations the Church supports and then links to these organizations' web pages. The site also contains a synopsis of the mission work. Fletcher posted a weekly podcast in Lent centering on the concept of Celtic spirituality and its relationship to Outreach. The web initiative was a deliberate effort to connect with youth. He explained the benefits of social media – "A social networking page can keep our friends updated on everything that is going on in our life, especially during the summer when we might not see our friends. This page also is a way to invite people that we may not like into our world. " He sounded a note of caution to parents – they need to have an account at a social media site that their children join. "I am not advocating being "Big Brother" to your children; rather I am hopeful that this media can become an activity that you share with your youth. This form of media can also be a way for you to stay in touch when your youth are away. "
Another initiative was to hold theological discussions with young adults at Capital Ale House on Caroline Street which featured lower prices on Mondays, particularly with hamburgers. In particular they discussed a chosen book, such as The Shack on Monday evenings. He encouraged the youth to join later in the week at the popular coffee hangout, Hyperion.
He wrote about the experience in the newsletter – "I have had the pleasure to start meeting with the youth weekly in the evenings for coffee or pizza. These informal gatherings allow the senior high students a bit of special time to talk about what is going on in their lives and simply get to hang out in an atmosphere that is relaxed and friend filled. In the future, I hope to make this a permanent piece of my work allowing for as Jim called it 'Fletch time.'"
5. He was also involved in social justice causes. He wrote "Coming to St. George's, I immediately witnessed a great number of our youth helping those in our community. But what about the injustice that goes on in our community and is going on just up the road? If you disagree with the war, with treatment of the environment, or human rights issues how do you make this known to the community and to Washington D.C.? We sit in the shadow of the most influential government in the nation, at least for a little while longer. How will we influence this country for the better? How will we help the least of these? Over the next month, I encourage you to pray about how you and St. George's might get involved for justice—remembering always that Justice begins in our back yard.
In September, 2007, he wrote a liturgy for a Peace Vigilbased on the UN Resolution for an International Day of Peace. It included participation by Christ Lutheran and the Presbyterian Church.
He took up social justice writing about the car title business in the March, 2009 in the newsletter, reflecting the developing recession that was affecting many:
"We may not be aware of how good we have it in Fredericksburg and the surrounding area. With millions of people out of work, our home has been impacted minimally. Or do we see this impact in and around the city. When you last ventured to Central Park did you notice several store fronts with going out of business signs? We have lost three large stores in the last several months: Linens n' Things, Tweeter, and Circuit City have all closed their doors or will soon do so. These closings leave people from the retail sector without a job for monetary support. That is when those out of work people begin to get worried and even desperate for some way to support their families.
"With a need for support, we turn to several different institutions. Of course, people turn to the church for help, but I wanted to explore someone else whose business seems to be booming in this time of great need. The car title loan industry seems to have found a niche in Virginia. That couldn't possibly be because over 35 other states, including all states who borders touch Virginia, have outlawed their predatory lending practice, could it?
"Imagine, if you will, being in dire need of a source of money. Your house is in danger of being foreclosed, you haven't any food for your children, you are facing cutoff notices from several utility companies, and you have already exhausted any assistance you might receive from churches and other area organizations. What would you do? Where would you go? Well, you have your car title. What if you knew you could get $1000 on the spot; the only problem is you also know that where you received the loan would charge you an exorbitant amount of interest? If this were your last option, would you do it? Well, 2800 people did last year, compared to only 600 in 2004.
"We like to think that people who get themselves into loans with high interest rates simply did not know better, but the truth of the matter is they know full well what they are doing; they simply do not have any other option.
"Yet to my surprise, our elected officials have looked the other way while this happens in our area. I went to lobby our state representatives on the day a bill to stop these practices was to be voted on in committee; sadly, it didn't make it out of committee.
"In the time it has taken for the above mentioned stores to close in Central Park we have had no fewer than two new car title loan companies open up shop, one right across the street from Central Park and one in the Bragg Hill Neighborhood—why would they open there, I wonder?
"The bottom line is these lending practices enrage me. From a Biblical standpoint, no one should charge more than what one can pay back, anything greater is usury. Why then are car loan companies getting away with charging in upwards of 365% (annual percentage rate) on people who own their cars? Does this make you at least a little bit mad? If so, I encourage you to stop by my office so that we can talk about how we might stop this injustice in our city and in the Commonwealth of Virginia."
He worked at the General Assembly on Bill 1490 to limit interest on car titling loans but the results failed.
He was active in handling requests for assistance that came to St. George's. Some of these led the wrong way when St. George's developed a reputation for housing anyone in a local motel.
Fletcher brought a new mission to St. George's – Puerto Rico which took two years of "prayer and planning" and one done by the youth. He had a background in mission, journeying to El Camino in his seminary years. He writes about the mission. The Pilgrimage to Puerto Rico began June 18, 2008 for a week and involve six youth and two adults. They have raised $800 through coffee sales and $1,500 through the sale of historic bricks. Fletcher praised the work of Annie Moncure who wrote a mission grant proposal which resulted in the pilgrimage receiving a $3,500 grant. The total cost of the trip would be $12,000. The cost to each participant is approximately $300. Another trip to the Appalachian mountains that same year was also a youth organized mission trip.
"As the culminating activity of the Journey to Adulthood formation program of St. George's, we will take our very first pilgrimage. The youth have chosen Puerto Rico as their religious destination. This is not some vacation or trip, the pilgrimage is a religious journey to some place holy. Our youth have decided to name Puerto Rico as that holy place.
"We will arrive in San Juan on June 18. From there we will spend eight days venturing to different religious sites. As part of their learning, the J2A group has done work in areas of eco-theology and will venture to Las Cabezas de San Juan Nature Reserve and to El Yunque National rainforest. While there, we will celebrate a Eucharist right in the rainforest. We will go to Porto Coéli, one of the oldest churches in the Western Hemisphere. Because outreach is such a part of the life of St. George's, the youth have asked to spend a day in service to the youth of Puerto Rico. We will be working on a diocesan youth project for the Episcopal Diocese of Puerto Rico.
"In addition to holy travel there will be a rule of life involving journaling and prayer life. The youth will decide on when to pray together and how we will prepare and share meals.
"The youth are the real leaders of the pilgrimage. From voting on the site to researching places for religious experiences to cooking and journaling, their experience will be one largely of leadership in the church."
He wrote in the newsletter in July, 2009 after the trip – "This J2A group's pilgrimage was to Puerto Rico and they went to such places as Las Cabezas de San Juan Nature Reserve and El Yunque National Forest, the only tropical rainforest in American territory. We also took time to go to one of the oldest churches in the western hemisphere, Porto Coeli (Heaven's Gate). Our youth took time to venture, journal and pray together through this trip. If you see one of our six pilgrims please take a moment to ask them about their experience on their tropical pilgrimage."
---
We also remember Fletcher for the other things – like the time the Fredericksburg Fire Department was called due to smoke when Fletcher celebrated with incense. He also married his girl friend Ali at Shrine Mont in 2009.
Fletcher was Assistant Rector and Director of Outreach and Youth from July 1, 2007 until August 31, 2009. Before he departed he was also doing fund raising for the new youth kitchen. He found 7 donors pledging $500 each or $3,500.
He left St. George's to become chief relational officer at St. James Parish in Wilmington from September, 2009 until March 2012. He then was rector at St. Thomas Episcopal Church March 2012 – April 2016.
As of late 2016, he is now working in the nonprofit sector at Cornerstones, formerly Reston Interfaith) where he is a fund raiser.
He writes, "I have over ten years of education and experience in leadership around vision, execution, and achievement which leads to a career that includes fundraising and development, mastery of public speaking and communications, management of finances, board chairmanship, strong administration, and continued learning. I am ready for a new challenge in my life. My strengths around collegial relationships with diverse groups of people and leveraging those relationships, a honed and intuitive sense of need within a given system, and broad research skills make me a strong candidate for a career in development and philanthropy."