One question – where did the 1880's photographer take the pictures ? Today there is a little window in the top of the steeple. However, reviewing old pictures there doesn't appear to have been that window at the top. Also that window may not be suitable for the landscape captured in those pictures. So the steeple pictures may not have been taken from top of the steeple!
There are 3 levels leading up to the steeple – 1. Clock level 2. Bell level 3. Ascension to the top
The clock level is approached through a somewhat rickety ladder going up 30 feet that is open. The bell level has a much smaller set of stairs leading to it that are enclosed.
Above that is a series of ladders and platforms leading to the top of the steeple. The cross at the top is just under 160′ from the sidewalk.
The closest picture in time to the 1888 pictures was done in 1864. The picture below is a closeup of the steeple area The top dormer is at the bell level. Note the trees obscuring the clock level. That may or may not have been present in 1888:

The picture could have been taken from the bell level if the dormers had been removed.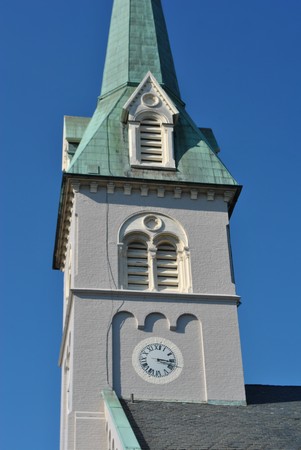 The 20th century pictures are taken from scaffolding in 1997 and 2009. What about 1888 ? The Vestry minutes of the period 1887-1889 do indicate repairs to the church but no mention of "scaffolding." The Vestry on June 27, 1887 appointed a committee to determine "what work was necessary to put the church in repair and what was the cost of doing the same." Then on April 2 1888 the Vestry appointed a committee to audit the account of expenses for chancel improvement. Was that the same repairs intended in 1887 ? Were the chancel repairs inside or outside ? The financial report April 1, 1887 to April 1, 1888 shows repairs to the church of $187.85 out of a total of $2,884.64 expenses.
We have no definitive answers where the pictures were taken.