What's New?
The Steeple View of 1888 in 2020
Erik F. Nelson Transportation Administrator City Archivist/Records Manager accompanied Lily C. Eghtessad who is doing a study of the Chatham Bridge to the steeple to get a contemporary view of the Chatham Bridge. Discoveries ensued
The Extended Washington Family
Washington was connected to St. George's not through membership. His home was not in Fredericksburg but Stafford. However, he was connected to St. George's through his family and some documented visits to the Church. Among its 18th century vestrymen were Charles Washington, Fielding Lewis, Charles Lewis, Lewis Willis, George Thornton, Francis Thornton, and John Lewis, […]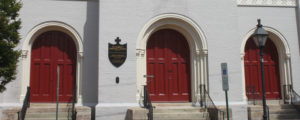 The Front Steps
The steps for the 1849 church were made of Aquia Sandstone mined in Stafford County. Fifty years earlier building material for the White House and U.S. Capitol. Its flaws led to it disuse. The church faced a substantial cost in 2011 to repair inherent issues within the stone as well as improper repairs. Tidewater Restoration […]
Getting Started in St. George's History - 6 essential resources
Selections from several categories of our history.
McGuire served all 3 churches over the course of 45 years. He is probably the most influential of all our rectors in all phases of ministry from preaching, teaching, and outreach. Trip Wiggins, our archivist, wrote this for a Sunday school class and has been teaching classes for years
6. Tom Faulkner confronts the Vestry on race
Faulkner served St. George's for 30 years from 1946-1976. During these years racial policies were paramount, especially 1954, in the year of Brown vs. Board of Education, Faulkner was challenged by the Vestry on the role of Blacks in our service. He was able to move St. George's toward racial justice that other rectors would further